Dancing Over the Bridge: Supporting the Great Work of the Los Angeles Beirut Sister Cities Committee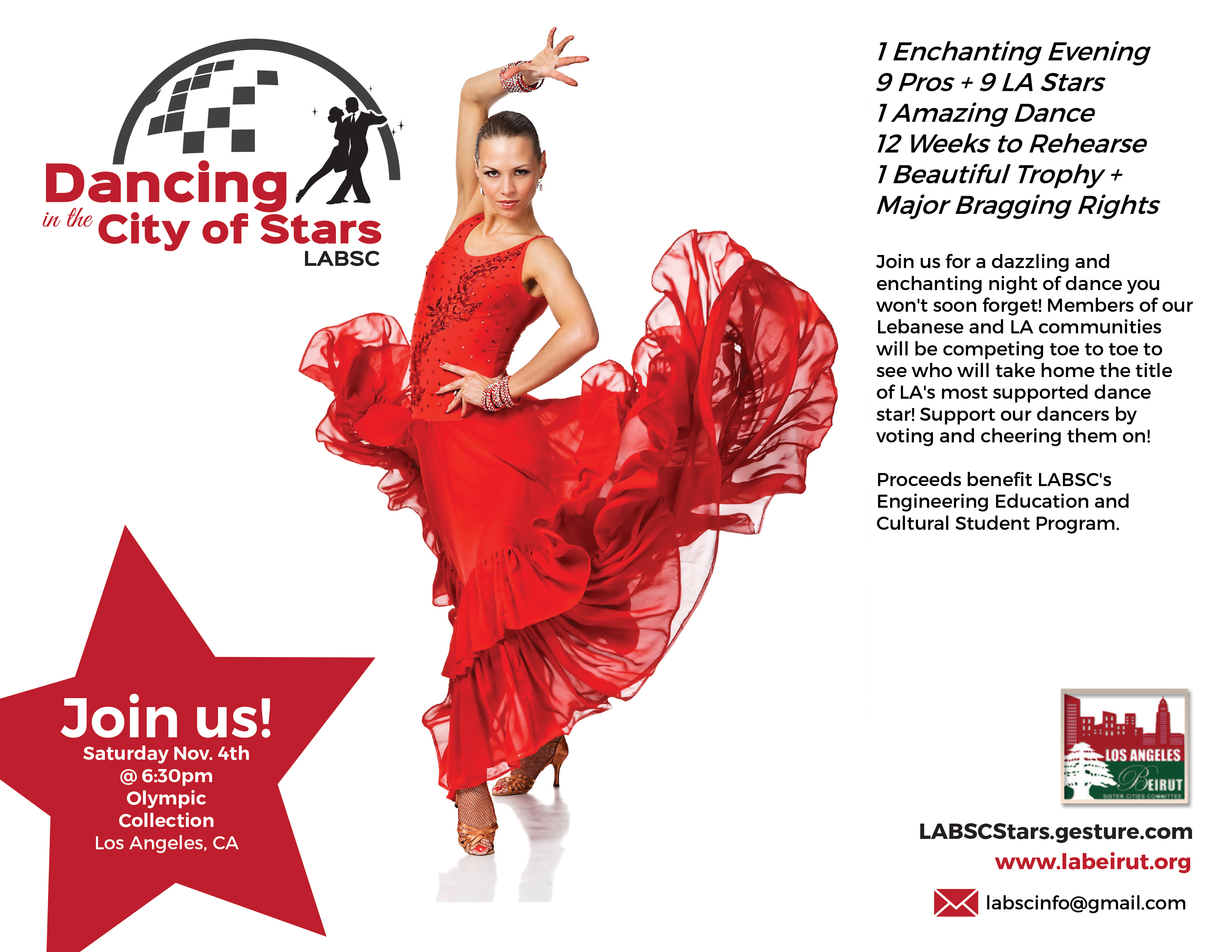 I am so excited to be dancing with seven other Angelenos on November 4th at the Dancing in the City of Stars event, benefiting the programs of the Los Angeles Beirut Sister Cities Committee (LABSC.)  A challenge that has had an incredible personal impact on me in just five weeks of training for this great event, benefiting an awesome cause.
Sisterly ties were initiated on August 27, 2005 by former Los Angeles Council Member Dennis Zine and then Council President Eric Garcetti with the aim to build a bridge of understanding and friendship between Los Angeles and Beirut. With multitude programs, this non-religious, non-political, non-profit organization creates opportunities for people in business, education and the arts to come together for cultural and social exchange.
Our City of Angels has welcomed immigrants from Lebanon for decades, and today there is a vibrant community of successful entrepreneurs, community leaders, humanitarians and simply lovely people including those who today serve on the board of the LABSC.  One example of many programs they have raised funds for and sponsored is the Student Civil Engineering Program, a two-week intensive focused on best practices in the field and designed to develop, promote and encourage Leadership, Civic Engagement, and Pluralism. Students with financial need from four Lebanese universities are selected by the committee, with past classes including students from AUB, BAU, LAU and UOB.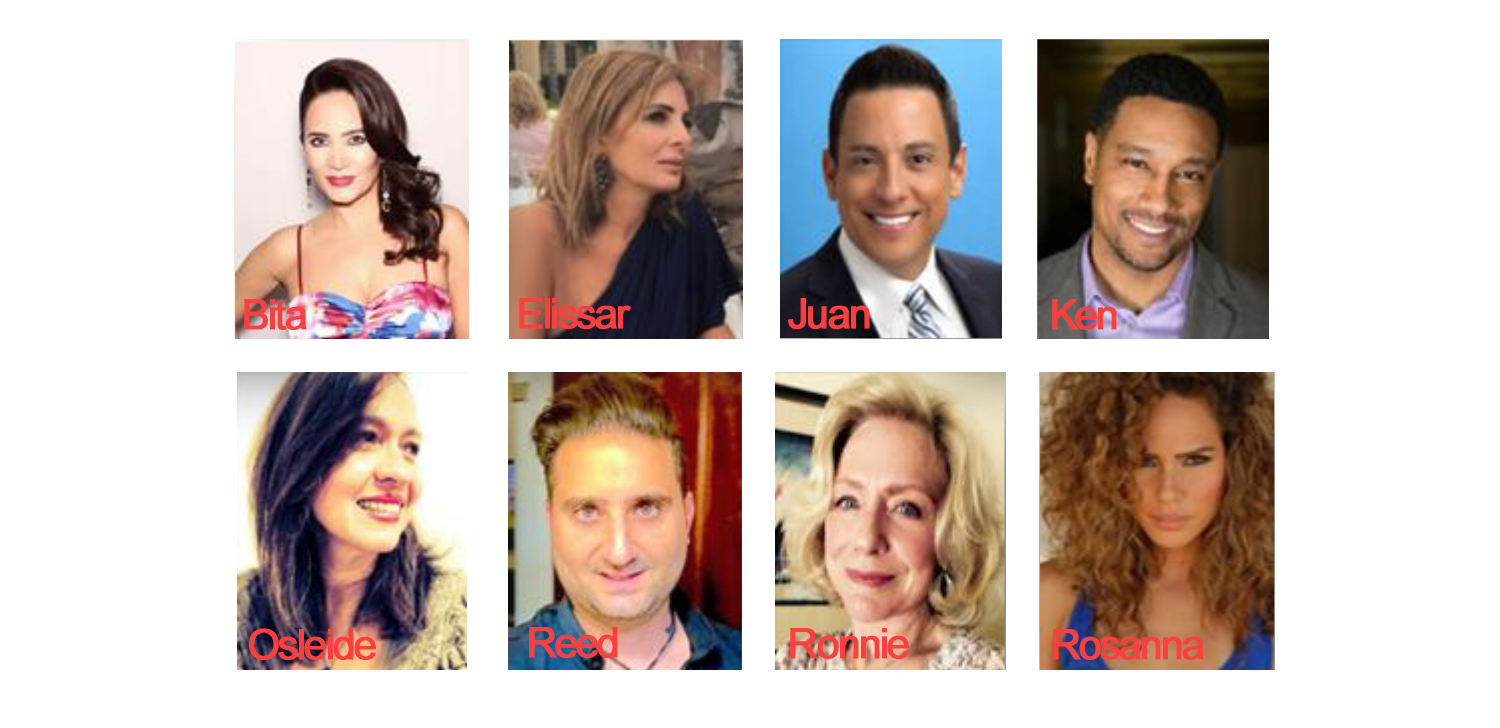 But on November 4th, it's all play and no work, as I join Juan Fernandez, Reed Hamzah, Ken Maxey, Ronnie Paul, Elissar Slim, Rosanna Tavarez and Osleide Walker in a "Dancing with the Stars" style competition.  It's been awesome to rehearse and prepare for this evening, and I invite you all to attend if you're local here in LA, or to sponsor your favorite dancer in service of helping build important bridges of understanding in a world that feels less welcoming of political refugees and immigrants.
Gearing up for this event has been a tremendous challenge – and joy!
SoHo Dance L.A.  is the official partner and sponsor of this competition with their professional dancers working closely with their paired 'star' to present the best entertainment possible that night.  I am fortunate to have been matched with Raul Santiago, owner and founder of SoHo Dance L.A., which is the largest and truly the most professional dance studio in all of LA.  Raul is not only a multi-award winning dancer, recognized as the 2016 Latin Hustle Champion, he is also a beautiful person teaching dance in a very exciting and fun format his newly opened multimedia / dance space, which has quickly become a center for support of the arts. Raul is also a kind and generous humanitarian, who will be hosting a fundraiser for his people of Puerto Rico in the coming weeks in support of those impacted by the recent hurricanes.
In 2003, Raul established his first dance studio in the heart of NYC's SoHo, where his SoHo Dance Company was formed. Known for great contributions to the Latin Hustle and Salsa dance forms, Raul Santiago and SoHo Dance have performed and taught in over 50 cities and over 10 countries worldwide.  The new studio in LA, where I am spending a lot of time rehearsing for the event, operates in over 6,000 square feet of studio space with the highest quality floating hardwood dance floors, a state of the art sound system, and other amenities.  All of us dancing in this competition couldn't have asked for a better setting to learn a craft that none of us have ever tackled before.  Raul has made his dream to create a warm and inviting atmosphere for adults and children has come to life, vibrant with many of the best dance instructors in the country.
My life has been truly transformed by this experience already!
I have lost weight and feeling fit and happy, with a better work/life balance.  After just five weeks of training so far, I have learned how amazing and important it is for each of use to take care of our own minds and bodies, to have the strength to do more good work, and to be the best possible beings we can be for ourselves, our families, our friends, and our communities.
I am a changed person!
Along with Raul and the rest of the LABSC team, I've also been blessed with Effat Yari, yet another Iranian-American woman who is one of the costume designers for Dancing with the Star , designing my outfit for that evening.  Like me, and like my dance partner, she understands the beauty of diversity and the joy of cultural exchange and therefore supporting me with this grand gesture.
We all love LA as one of the greatest "melting pots" on the planet, a city which particularly under Mayor Eric Garcetti's leadership, embraces and intertwines people of all faiths, all ethnicities, all genders and lifestyles.  Let's all dance together – life is short, and music – dance – fine arts – literature – and gatherings like the one on November 4th bring so much joy into our lives, along with meaning and purpose.
I invite you to take part and contribute however you can and move with me on the dance floor on November 4th, even if only in spirit.  For more info about attending and/or voting for me to win, please visit bitamilanian.com/vote.
Filed Under:

Tagged With: