A New Light Shines in Nepal
We never know where innovation will rise, and for what meaningful purposes. This week, I learned about a project being led by a young 22-year old engineer name Madindra Aryal in Katmandu, Nepal who witnessed the devastating earthquake there and was inspired to invent a solar-powered panel able to light streets, homes and charge mobile devices.
He has already created a working prototype, and has been tapping into an open-source creative community of engineers and developers who help each other build and commercialize inventions – www.collaborizm.com.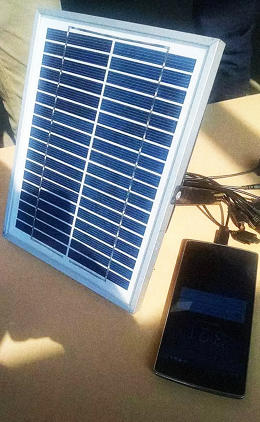 "It's hard to describe what it's like to watch not only your home, but your entire neighborhood get destroyed by nature's fury," Aryal shared on his Collaborizm project page. "People tried to console me, but their words did not ease my anguish. However, I am an engineer and I have been trained to solve complex problems, and that is how I decided to focus my energy."
He joined Collaborizm after distributing 500 prototype devices, to "meet people with business experience who mentored me on converting my idea into a full-scale business."
Madindra's story began spreading beyond the Collaborizm community and into the mainstream when last week "Nepal's Light" was featured in the largest newspaper in Nepal.
On Monday, Madindra launched an Indiegogo campaign to raise $10K to fund larger scale development of the product which for very little money can bring affordable, sustainable energy to even the most remote areas.  And today, his story was published on Fast Company!
Steven Reubenstone, founder and CEO of Collaborizm said, "We're so proud of Madindra and all the engineers on our platform who pitched in to help him build this panel and system. With over 35,000 engineers, developers and creatives on the platform, we are seeing new projects that can have an amazing positive impact on the world being added every day. We are crowdsourcing innovation and encouraging cooperation and proving that small groups of talented and committed people from every country and culture in the world can join forces for good."
Reubenstone was motivated himself to build Collaborizm when he was studying engineering and needed guidance and help for inventions he was working on. "I knew there had to be some way to harness the great energy and passion makers have so I set out to build this with the community. It's working, and Madindra's Nepal Light project is evidence of that."

Nepali Earthquake Victims holding the Nepal's Light, honoring those lost in the quake.
Please join me in supporting Madindra's dream through this Indiegogo campaign to help millions of other people with this simple but powerful solution, made possible by one vision and many talents, organized online, and made possible by passion.
Filed Under:

Tagged With: